2 Pounds - Edward VII
Coronation
Features
Country
Australia
Type
Non-circulating coin
Year
1902
Value
2 Pounds (2)
Currency
Pound sterling (1788-1929)
Composition
Gold (.917)
Weight
15.91 g
Diameter
28 mm
Shape
Round
Orientation
Coin alignment ↑↓
References
KM# 16,

Standard Catalog of World Coins
by George S. Cuhaj
(Krause Publications)

Fr# 31

Gold Coins of the World: From Ancient Times to the Present
by Arthur L. Friedberg, Ira S. Friedberg
( Coin & Currency Institute, 2017)
Commemorative issue
Coronation of Edward VII
Obverse
Head of King Edward VII facing right
Lettering:
EDWARDVS VII D: G: BRITT: OMN: REX F: D: IND: IMP:
DES.
Engraver: George William de Saulles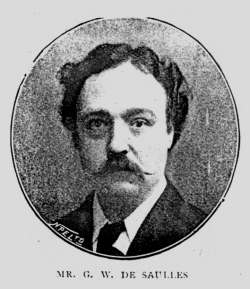 George William de Saulles was a British medallist. He authored and designed the obverse of coins from the United Kingdom and its colonies under Queen Victoria and Edward VII of the United Kingdom
Reverse
St. George on horseback holding short sword, the horse rearing to right over a fallen dragon which has a broken lance in its chest; in exergue, the date
Lettering:
S
S B.P.
1902
Benedetto Pistrucci was a distinguished Italian Gem-engraver, medallist and coin-engraver who became Chief-medallist at the Royal Mint in England.
Edge
Milled
Comments
This was a special commemorative issue related to the coronation of Edward VII, the only other two pound coin struck in Australia, also at the Sydney mint, was in 1887 for the Jubilee of Queen Victoria. After the closure of the Sydney mint in 1926 the dies for this coin were brought to the Melbourne mint and may have been employed there before being defaced and sent to the Dixon Collection in Sydney (now in the State Library of New South Wales, Dixon Collection).
Manage my collection
To manage your collection, please log in.
Year
Mintage
G
VG
F
VF
XF
AU
UNC
1902 S
4
Get this coin
No member from this site currently wants to exchange this coin.
Numista Rarity index:
95
Search tips
This index is based on the data of Numista members collections. It ranges from 0 to 100, 0 meaning a very common coin and 100 meaning a rare coin among Numista members.
Bullion value:
727.62 USD
Search tips
This value is given for information purpose only. It is based on a price of gold at 49,873 USD/kg. Numista does not buy or sell coins or metal.