½ Sovereign - Edward VII
Features
Country
Australia
Type
Standard circulation coin
Years
1902-1910
Value
1/2 Sovereign (1/2)
Currency
Pound sterling (1788-1929)
Composition
Gold (.9166)
Weight
3.9940 g
Diameter
19.30 mm
Shape
Round
Orientation
Coin alignment ↑↓
References
KM# 14

Standard Catalog of World Coins
by George S. Cuhaj
(Krause Publications)
Obverse
Lettering:
EDWARDVS VII D: G: BRITT: OMN: REX F: D: IND: IMP:
DeS.
Engraver: George William de Saulles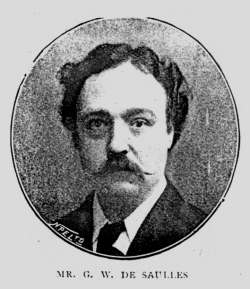 George William de Saulles was a British medallist. He authored and designed the obverse of coins from the United Kingdom and its colonies under Queen Victoria and Edward VII of the United Kingdom
Reverse
Lettering:
M B.P.
1906
Benedetto Pistrucci was a distinguished Italian Gem-engraver, medallist and coin-engraver who became Chief-medallist at the Royal Mint in England.
Comments
Mintmarks:
M = Melbourne Mint
S = Sydney Mint
P = Perth Mint
See also
Manage my collection
To manage your collection, please log in.
Year
Mintage
G
VG
F
VF
XF
AU
UNC
Frequency
1902 S
84,000

18%

1902 S
0.00%
Frosted Proof
1902 S
3%
Proof
1903 S
231,000
18%
1904 P
60,000
13%
1906 M
82,000
13%
1906 S
308,000
15%
1907 M
400,000
18%
1908 M
218.53
313.22
18%
1908 P
25,000
13%
1908 S
538,000
15%
1909 M
186,000
13%
1909 P
44,000
15%
1910 S
474,000
26%
Values in the table above are expressed in USD. They are based on evaluations by Numista users and sales realized on Internet platforms. They serve as a measure, but they are not intended to be relied upon for buying, selling or exchanging coins. Numista does not buy or sell coins.
Frequencies show the percentage of Numista users who own each year or variety among all the users who own this coin. Since some users own several versions, the sum may be greater than 100%.
Get this coin
No member from this site currently wants to exchange this coin.
Numista Rarity index:
72
Search tips
This index is based on the data of Numista members collections. It ranges from 0 to 100, 0 meaning a very common coin and 100 meaning a rare coin among Numista members.
Bullion value:
184.45 USD
Search tips
This value is given for information purpose only. It is based on a price of gold at 50,384 USD/kg. Numista does not buy or sell coins or metal.