½ Sovereign - Edward VII
Features
Country
Australia
Type
Standard circulation coin
Years
1902-1910
Value
1/2 Sovereign (1/2)
Composition
Gold (.9166)
Weight
3.9940 g
Diameter
19.30 mm
Shape
Round
Orientation
Coin alignment ↑↓
References
KM# 14

Standard Catalog of World Coins
by George S. Cuhaj
(Krause Publications)
Obverse
Lettering:
EDWARDVS VII D: G: BRITT: OMN: REX F: D: IND: IMP:
DeS.
Engraver: George William de Saulles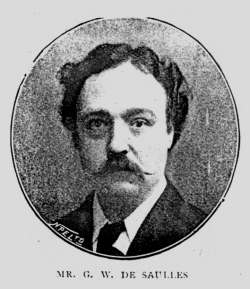 George William de Saulles was a British medallist. He authored and designed the obverse of coins from the United Kingdom and its colonies under Queen Victoria and Edward VII of the United Kingdom
Reverse
Lettering:
M B.P.
1906
Benedetto Pistrucci was a distinguished Italian Gem-engraver, medallist and coin-engraver who became Chief-medallist at the Royal Mint in England.
Comments
Mintmarks:
M = Melbourne Mint
S = Sydney Mint
P = Perth Mint
Manage my collection
To manage your collection, please log in.
Year
Mintage
G
VG
F
VF
XF
AU
UNC
1902 S
84,000
1902 S
Frosted Proof
1902 S
Proof
1903 S
231,000
1904 P
60,000
1906 M
82,000
1906 S
308,000
1907 M
400,000
1908 M
1908 P
25,000
1908 S
538,000
1909 M
186,000
1909 P
44,000
1910 S
474,000
Get this coin
No member from this site currently wants to exchange this coin.
Numista Rarity index:
72
Search tips
This index is based on the data of Numista members collections. It ranges from 0 to 100, 0 meaning a very common coin and 100 meaning a rare coin among Numista members.
Bullion value:
179.02 USD
Search tips
This value is given for information purpose only. It is based on a price of gold at 48,901 USD/kg. Numista does not buy or sell coins or metal.