½ Farthing - Edward VII
Coronation Model
Features
| | |
| --- | --- |
| Country | * Tokens * (United Kingdom - Tokens) |
| Type | Token |
| Year | 1902 |
| Value | 1/2 Farthing (1/1920) |
| Currency | Tokens |
| Composition | Bronze |
| Shape | Round |
| Orientation | Medal alignment ↑↑ |
| Demonetized | Yes |
Commemorative issue
Coronation of Edward VII
Obverse
Uncrowned bust facing right
Lettering: EDWARDUS VII DEI GRATIA REX
Engraver: George William de Saulles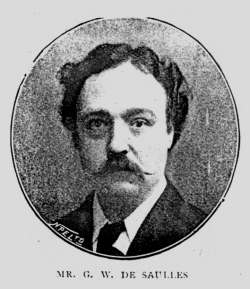 George William de Saulles was a British medallist. He authored and designed the obverse of coins from the United Kingdom and its colonies under Queen Victoria and Edward VII of the United Kingdom
Reverse
St. George and dragon
Lettering:
·CORONATION MODEL·
HALF FARTHING
1902
Comments
http://aboutfarthings.co.uk/catalogue/how-to-use-this-website/what-is-a-model-farthing/
Model farthings were unofficial "trial" pieces produced by coin manufacturers to advertise the quality of the products they were manufacturing. They were also in some cases intended as a suggestion for possible future coin designs.

Many of the official trial pieces, or the scarcer varieties can command a premium and are extremely collectable due to the lower mintages involved. There were however a few series produced that were more common and can be readily found and collected. Due to the unusual designs, sizes and denominations their origin and purpose tends to cause confusion.
See also
Manage my collection
To manage your collection, please log in.
Year
Mintage
G
VG
F
VF
XF
AU
UNC
1902
Get this coin
Members from this site want to exchange this coin: mexcoins, sch1tz0.cg13
Feedback:
(×25)
Country:
Mexico
Languages :
Feedback:
(×1)
Country:
United States
Languages :
» See the details of the coins available for swap
Numista Rarity index:
76
Search tips
This index is based on the data of Numista members collections. It ranges from 0 to 100, 0 meaning a very common coin and 100 meaning a rare coin among Numista members.